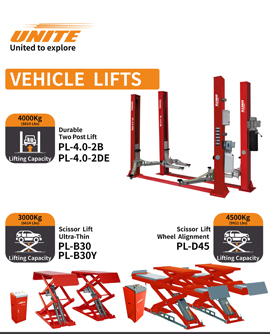 What Type of Vehicle Lift Is Right for Your own workshop?
23/08/2019 | Unite Auto Equipment
This is where it gets a little more complicated. There are a lot of choices here, and a lot of factors to consider with each model.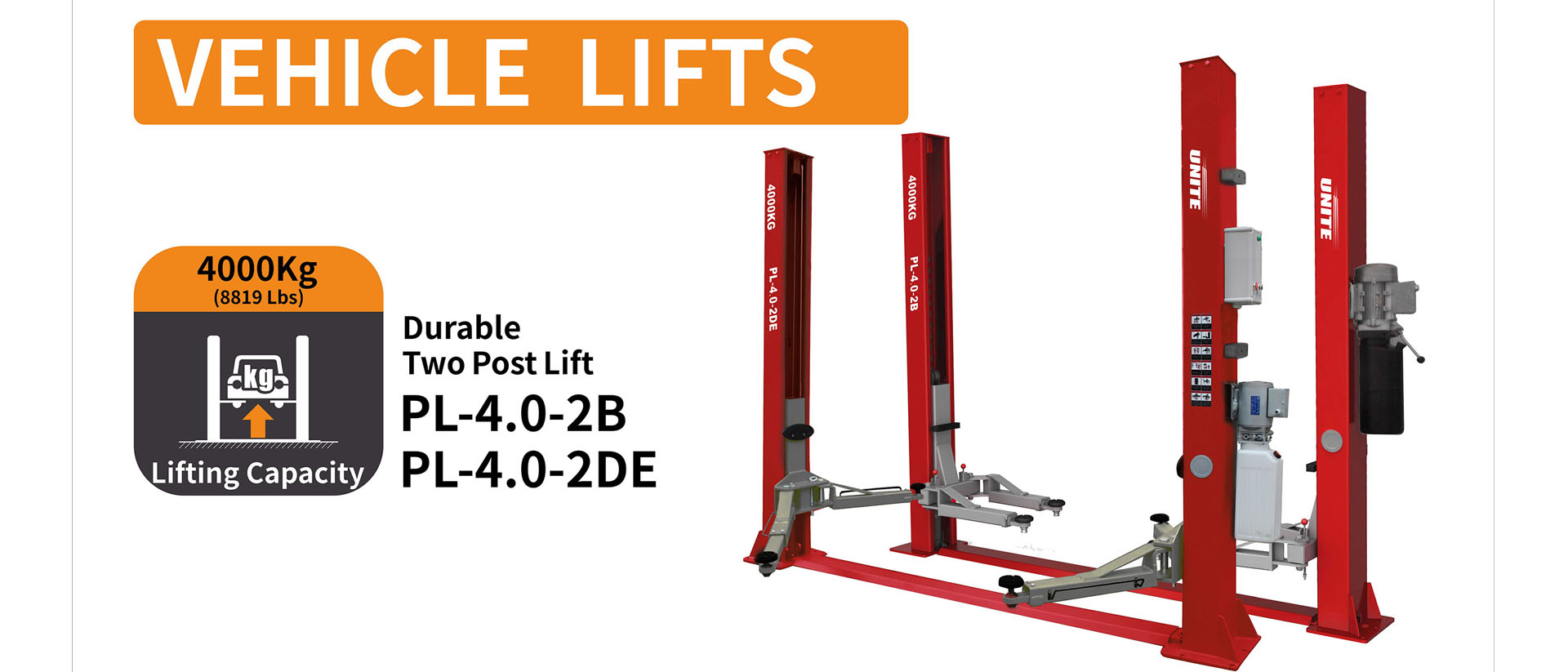 Two-Post Lifts: You might want to opt for a model with a direct-drive design, which uses heavy-duty hydraulic cylinders to supply lift action, rather than a model that relies on chains and cables that will wear out frequently and drive up the operating cost of the lift. You might spend a little more on a heavy-duty hydraulic lift, but you'll save time and money on repairs—and hydraulic lifts are safer, so you'll be investing wisely. If, for whatever reason, you do decide to opt for a two-post lift, choose a model that has larger equalizer cable pulleys, superior arm restraints, and as sturdy design as possible, to help ensure your equipment will stay safer and last longer between repairs. Downtime is not something you want to deal with in a busy auto shop.
Consider something like a model with triple telescoping front arms, which make it possible to work on wider vehicles because they enable you to reach the jacking points much more easily. Maybe the asymmetrical model is right for your needs—they're ideal for rear-end heavy vehicles, as they center the reach between two opposing posts. Asymmetrical models are going to set the vehicle farther back, which gives you the ability to open the door much wider when entering or exiting the vehicle, so consider that if you commonly need to gain access to the interior of a car while you're working on it.
Four-Post Lifts: Commercial quality, heavy-duty, able to handle almost any common vehicle lifts like these are going to make any commercial auto shop more than content. Find out how much weight they lift you're considering can handle—while it might seem like overkill, something like a 12,000-pound lift is going to be that much more versatile than something in the 8-9,000-pound category. Look for a system that has features like dual safeties, a slack cable safety system, and well designed, durable mechanical ladder safety systems, and be absolutely sure that they are ALI certified. The ladder safety system will come in handy if you're working on an uneven floor, as it will give you the ability to level the lift in seconds. Plan ahead.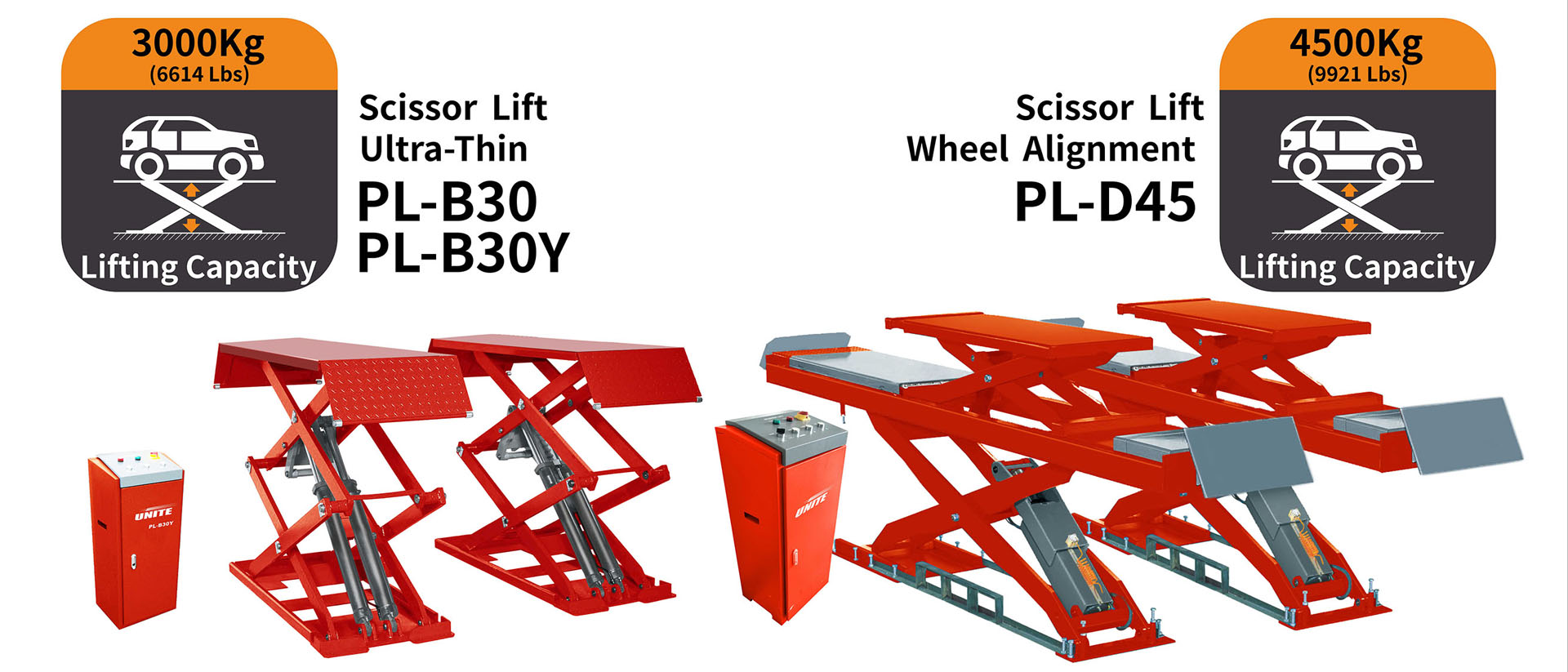 Scissor Lifts: Bear in mind that scissor lifts aren't intended for long-term storage of a vehicle, and if you use them for that purpose, they're going to wear out on you quickly—or possibly fail entirely, which you don't want. One big advantage that scissor lifts provide is that they do give you ample space to work in, no matter what kind of vehicle or repair job you're dealing with. There are available BendPack lifts which give you a maximum lift of more than 69", and which are ideal for most low-profile vehicles. There are several other options in the scissor lift category ranging from low-rise to full-rise models, so do your homework and be sure what you're buying is something you'll be able to get the most use out of.
Low-Rise Lifts: Low-rise, portable lifts are the perfect fit for a small auto repair shop, because their design allows you to set them up and break them down for storage very quickly and with a minimal amount of effort. These are going to be electric/hydraulic lifts and will be able to handle up to around 6,000 pounds, no sweat. The dropped crossbar design will give you the value-added clearance and ample space to work. There's nothing more annoying than struggling to fit tools in the space between the vehicle and the lift—unless it's repeatedly banging your hands on the lift while trying.
In-Ground or Pit Lifts: More hydraulic/electric lifts, fast operating, and again in about the 6,000-pound lifting capacity category, these lifts are low profile, with an open-center design. A shop that specializes in quick lube jobs is going to want to consider something like one of the pit lifts from BendPak, which are ideal for that purpose. Whatever lift you decide on, you'll find this category of lift generally very economical and cost-effective, as well as easy to use. Drive the vehicle on, tackle the job, drive the vehicle off, and you're set and ready for the next job in line. Great for busy shops that don't need the capacity some of the larger lifts provide.
Single-Post Lifts: These are pretty old-school, but they've been around forever for a very good reason. The mounted, single-arm, platform lift is fantastic for just about anything you can throw at it—cars, trucks, RVs, boats—basically, if you can park it on the lift, you can raise it up and work on it. There are models available in both standard and extended rise, with removable center panels which make it easier to maximize your available space and let you get more done with less fuss. Look for a model with flip-up ramps that double as secure wheel chocks, which is a great safety feature. These really are a great option if your shop handles a lot of SUVs or work trucks, as the wide, low-profile deck and heavy-duty construction common to single-post lifts ensure safety even when you're working with the widest vehicles on the road.
Motorcycle Lifts: There are several different styles available and in a variety of electric/hydraulics, pneumatic, and manual power-drive models. Motorcycle lifts are incredibly portable, easy to store, and available in the platform or open jack styles.