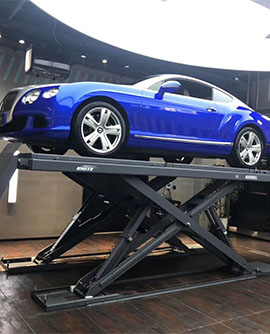 How To - Assembling & Installing U-E35 Scissor Car Lift
09/09/2019 | Unite Auto Equipment
This has been a long time coming. I finally have somewhere to put a lift. I'm partial to scissor lifts. I've found there is very little information about how to install and how they function, so I'm going to provide it.
The U-E35 Scissor Lifts has no cross rails or torsion bars between lifting platforms (for maximum accessibility in the working area). All pivot points are made with self-lubricating bushings for long life. Mechanical locking device with automatic engagement and pneumatic release ensures maximum safety when the lift is in standing position. Hydraulic leveling system by means of a patented synchronization device assures constantly level lifting platforms regardless of weight distribution.

Model U-E35
Safety Features:
1. Precision machined safety lock
2. Safety descending stop & alarm
3. Safety valve for anti-explosion of hydraulic system
4. Height limit switch
5. EVA Rubber mat (4pcs/set)
Get it here:http://www.uniteautomotive.com/3-5-t-capacity-u-e35-full-rise-scissor-lift.