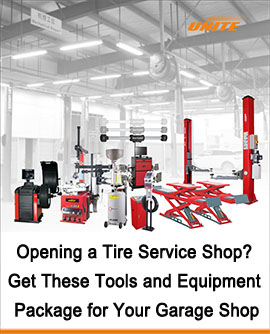 Opening a Tire Service Shop? Get These Tools and Equipment Package for Your Garage Shop
08/04/2020 | Unite Auto Equipment
If you're interested in business and the automotive repair industry then opening your own tire shop is a startup option for you.
You'll need to do your research to make sure there is a demand for a tire shop in the area you're considering. On the other hand, you need to make sure the market isn't saturated because it will be difficult to compete unless you bring something to the market that other shops are don't have or are performing poorly.
New and used retail tire stores are popular small businesses because of the frequent service and replacement needs for consumer vehicle tires and tire pressure monitoring systems (TPMS). As the number of vehicles on America's roads increases each year, opportunities to serve this customer base grow as well. Automotive repair shops may also consider expanding their business by adding tire installation and repair as a service to their customers.
Once you've completed mechanical and diagnostic training, the best career path is to either work for another shop or dealership as a mechanic, to hone your skills and gain experience. This will also give you the time to earn enough money to begin acquiring the equipment you will need to operate your own auto repair shop.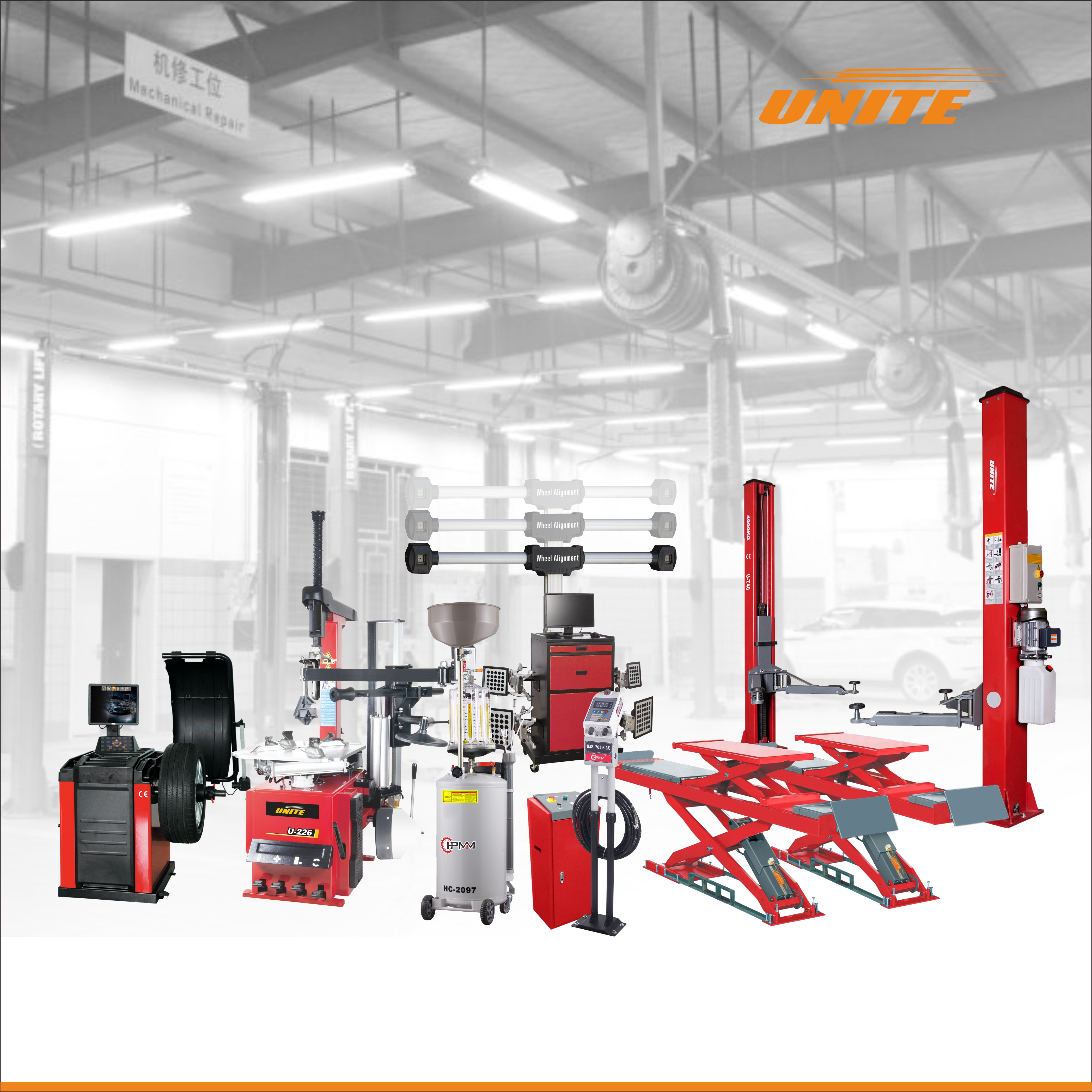 Auto repair equipment that you will need to get your shop ready for business may include:
1. Tire Changer
One of the most commonly used machines and a staple of every shop is the tire changer. A device that can range from the very simple to the extremely complex, this equipment will help you handle one of the most common maintenance jobs with ease. Wheels undergo a lot of abuse from their vehicles, being constantly in motion and bearing the full weight of the machine and its passengers. For this reason, they sustain a lot of wear and require regular maintenance. Ensuring your shop is equipped to handle this work will help make your life a lot easier, so you can tackle any job that comes your way without worry.
There are three main things to consider when deciding on the right machine for you. Size, type, and performance. Different models are designed to handle different wheels, and whether you are looking to change standard car wheels from 20 to 24 inches, heavy-duty truck wheels, low profile wheels, or anything else, you will want a machine that can handle the job. Larger tire changers can also handle more frequent use but are often more expensive, so you can customize your equipment to suit the needs of your shop. Here is a quick tire changer comparison that will help you narrow down your selection:
Tilt Back Tire Changers: U-226 Semi-Automatic Tilt Back Tower Tire Changer
Coming in at a higher price point than the smaller swing arm design, tilt back tire changers are a great option for shops that intend to work on a wider variety of sizes. They are more easily and quickly adjusted on the fly to accommodate different wheels, helping them save you a lot of time and hassle in the long run. Use an automatic tilt back option to adjust your changer to correctly fit the size of any tire and you will reduce the risk of damage during a change while also making the job easier every time.
2. Wheel Balancer
Wheel balancers are a fantastic piece of equipment that will help you save time and effort performing balancing work by giving you better support and control. Deciding on the best machine for your shop can be daunting, so check out our wheel balancer comparison for tips on how to choose the best machine for your shop.
The main consideration for wheel balancer is the balancing you require. There are three main types - static, dynamic, and "bubble" balancers. The choice between these types of wheel balancers will come down to the frequency of your work and what your budget is for your equipment. Here is a quick explanation of these machines:
Static Wheel Balancers: U-579 Self-Calibrating Computer Wheel Balancer
As the name implies, static balancers describe equipment that performs the task without moving the wheel. While a stationary wheel is slightly less accurate and precise, it is easier to work with and more economical. These machines are often smaller and more affordable, the perfect option for a shop on a budget. Whether you are just starting out or want a portable and lightweight balancer that can handle a variety of jobs, this is a great option for you.
3. Two Post Car Lift
Working on vehicles all day long does not have to be back-breaking work. Having a high quality, the powerful lift can take a lot of the strain and effort out of performing maintenance and repairs. However, finding the right lift for your garage or shop can be a daunting task. If you are ready to make the investment in a two-post lift but are not sure where to look, let us help you get the information you need to narrow down your options. Our two post car lift buying guide will start you on the right track toward having a lift you love, helping you make the most of your time so you can get work done easier and quicker every day.
The first thing to consider when looking at two post lifts is whether or not you want a lift with an overhead or baseplate design. Two post lifts operate by using two posts to hoist a platform that lifts the vehicle into the air. With an overhead style, a beam connects the posts at the top, providing a good amount of stability and support while taking up a relatively small amount of space, giving you plenty of room to work and open access to the vehicle. With the baseplate design, a larger plate beneath the vehicle can deny proper access to the vehicle, making it difficult to use accessories such as tall stand supports or a transmission jack. At the same time, baseplate designs have shorter constructions, making them easier to fit in garages with low ceilings. Here is a quick explanation of these machines:
Floor Cover Plate Two Post Vehicle Lift: U-T40 2 Post Lift
U-T40 2 post lifts are designed with safety in mind. These easy-to-use lifting solutions are ideal for garages and shops with low-clearance ceilings. This base model is an exceptional choice for quick oil changes or anyone that needs to be able to use vehicle lanes when not working on customer vehicles. Scissor-style lifts simply won't do for most service technicians, and under-car clearance can become a big concern. Even with a minimum ceiling height of nine feet, this standard car lift will fit in just about any garage or service bay. Swiveling arms and extending capability make hitting jacking points easier than ever before.
4. Alignment Lift
Alignment auto lifts are a special class of lifting solutions because they come with extra features to make it easier to perform alignment service on cars or trucks. Although alignment lifts were originally designed for automotive repair shops, dedicated hobbyists can also utilize the alignment function of these lifts. Alignment car lifts can be any kind of the previously discussed wheel engaging auto lifts (four-post lifts, scissor lifts, and in-ground lifts) as long as the car or truck tires are resting on some sort of a runway. Special turn plates and slip plates are built right into the runways, so the wheels can easily turn without resistance. For that reason, mobile columns that hold each wheel in their arm assemblies cannot be alignment lifts. Here is a quick explanation of these machines:
Alignment Scissor Lift: U-D45 Solid Steel Structure Wheel Alignment Scissor Lift Built-In Lifting Platforms
The U-D45 Scissor Alignment Lift is a rugged 4.5t capacity scissor alignment lift with the open front design that provides easy access to alignment service and calibration areas. Hydraulic equalization and full support rear member deliver repeatable smooth level lifting. Flush mounted rear slip plates with heavy-duty encapsulated bearings support and offer smooth movement to ease rear alignment adjustments.
4. Wheel Alignment
Having the right equipment ready for any job that comes to your garage is an important aspect of running a successful business. This includes having a full array of wheel alignment equipment. Alignment work is a very common part of routine vehicle maintenance and is necessary for everything from small ATVs and motorcycles to large trucks. Being able to perform this work quickly and easily will save you a lot of time and stress, increasing the productivity of your shop and helping you move through jobs without hassle. Here is our wheel alignment equipment guide that will help you look in the right place when shopping for tools for your garage:
Computerized: PL-3D-5555 Wheel Alignment Machine
Most modern wheel alignment equipment uses a laser-guided system to make precise and accurate readings. Computers make reading alignments easier and quicker than ever, and they are a common choice due to this extra benefit of precision. This also helps make sure the work takes no time at all, and a trained technician can perform a four-wheel alignment in just a few minutes. However, the extra features of these setups also require additional training to be used properly and effectively.
4. Oil Extractor
The oil extractor works by sucking the oil from the crankcase through a thin tube inserted in the dipstick opening. A handle is pumped repeatedly to create a vacuum that pulls the hot oil into an easy-to-carry container. It can then be taken to an auto parts store for recycling. Here is our oil extractor equipment guide that will help you look in the right place when shopping for tools for your garage:
Oil Extractor: HC2097
Fast vacuum speed, capable of high negative pressure, multi-purpose equipment.High-quality cylinder, higher intensity, high grade of transparency as well as high-temperature resistance (able to withstand 80℃ & negative pressure without deforming). A transparent cylinder allows oil observation and measurement. Use compressed air as a power source; guarantee the safety in use, Eco friendly and low power consumption. Vacuum cylinder and oil tank at the same time, increase oil extraction speed. The different diameters of oil suction probes to meet the need for different types of cars. Height adjustable Oil tray lift can be fixed to a desirable height. Can be used with other mechanical engine oil, lubricants as well as temporary storage. Brake fluid, gasoline, diesel, and other liquid contains methanol and ketones or flammable is strictly prohibited.
4. Tire Inflation System
When setting up a new tire repair shop or seeking to replace a tire inflator in an existing shop, it becomes quickly apparent that there are a lot of types of tire inflator to choose from. You should first think about what your intended use for the tire inflator is. Do you plan to put in a garage setting where it will be used frequently for multiple applications, such as tire inflation and driving pneumatic equipment, or will it be used on a mobile service truck? Here is our automatic tire inflator equipment guide that will help you look in the right place when shopping for tools for your garage:
Tire Inflator Machine: HJS701B-LX
Preinstalled electron pressure display,safety,accurate and easy operation.Automatic discharge when over inflation.Manual air inflation and measuring tire pressure with manual type.Automatic air inflation with high speed and high level of accuracy. Buzzing and lighting alarm appears after finishing inflation. The tire bead is not sealed with the tire rim,the the loose clamping mouth, the leakage pipeline and air leakage,all the situation above will lead to lighting and automatic alarm during the air inflation. And the inflator can proceed texting jobs three times at most. The inflator will not execute all the inflation orders until the stoppages are absolutely removed. Adopting a pressure sensor of high accuracy. accuracy2%(full-scale reading).High reliability and waterproof design,which is attractive and durable.