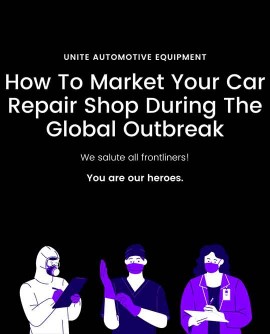 How To Market Your Car Repair Shop During The Global Outbreak
16/04/2020 | Unite Auto Equipment
Marketing demand is one of the contents shared by all enterprises. Now, due to the restrictions brought about by the spread of the pandemic, whether your business remains in business or not, marketing has become increasingly important. Since you own or manage a car repair shop, you need a marketing strategy for your niche market. Don't worry, we are here to help you.
Equipment speak louder than words
In this industry, the workshop with the best equipment will always have a competitive advantage. Demonstrating new vehicle equipment,apply car stickers or cosmetics to cars or car spray booths on social media will certainly attract some attention. This is the area where we can provide the most help. We are always committed to providing you with high-quality equipment at a reasonable price. Do your best and let your machine speak for itself.
Digitization is the way
Since most people stay at home during this time, you should do everything possible to establish contact with potential customers. In the current situation, vehicles are still very important, and your important work in helping people maintain mobility.
Speaking of mobile devices, you can migrate your current membership plan to the digital space so that people do n't have to risk losing their credit cards (and their points), and it will be added to the security protocols currently needed. If you do n't have a similar program, you should investigate. The setup is very simple. Apps such as CandyBar, Goody, and Annex Cloud can help you set up these programs online and monitor them through Internet channels.
During this ordeal, you should also be active on social media. Just tell your customers if they are open, and they will provide them with active support so they can regularly check you through social media. If nothing else, actively participating in social media will let everyone know that your business is still going on.
Online optimization
Invest in your website. A well-made website will reflect your credibility and professionalism in your work. In addition, now, your website is your only storefront. These blocking and isolation measures have prompted more people to surf the Internet more frequently. Build a good website and make sure it highlights the best part of your work.
However, a beautiful website is only half the battle. It needs to be optimized so that more people can access it. Hire a search engine optimization team or learn SEO by yourself. This will help your website get a higher ranking in people 's Google search results. It can also target your audience to your specific location so that the traffic to your website has real sales potential.
Education> Marketing
According to Forbes, education can win more customers than marketing strategies.
In previous blog posts, we mentioned how to educate customers about maintenance knowledge and how to help build customer trust. There are many uncertainties in the services in this industry. Proactively helping them understand these unknown factors will help customers trust you and your ability.
Going further, making educational videos. Now, most people already watch and consume content on the screen. A series of well-made videos that teach the basics of car repair can effectively build your expert brand in this field. Add a little creativity, and you can even find yourself on popular pages.
This is a challenging time for everyone. But that's why marketing is important now. Make full use of downtime and gain some brand recognition.